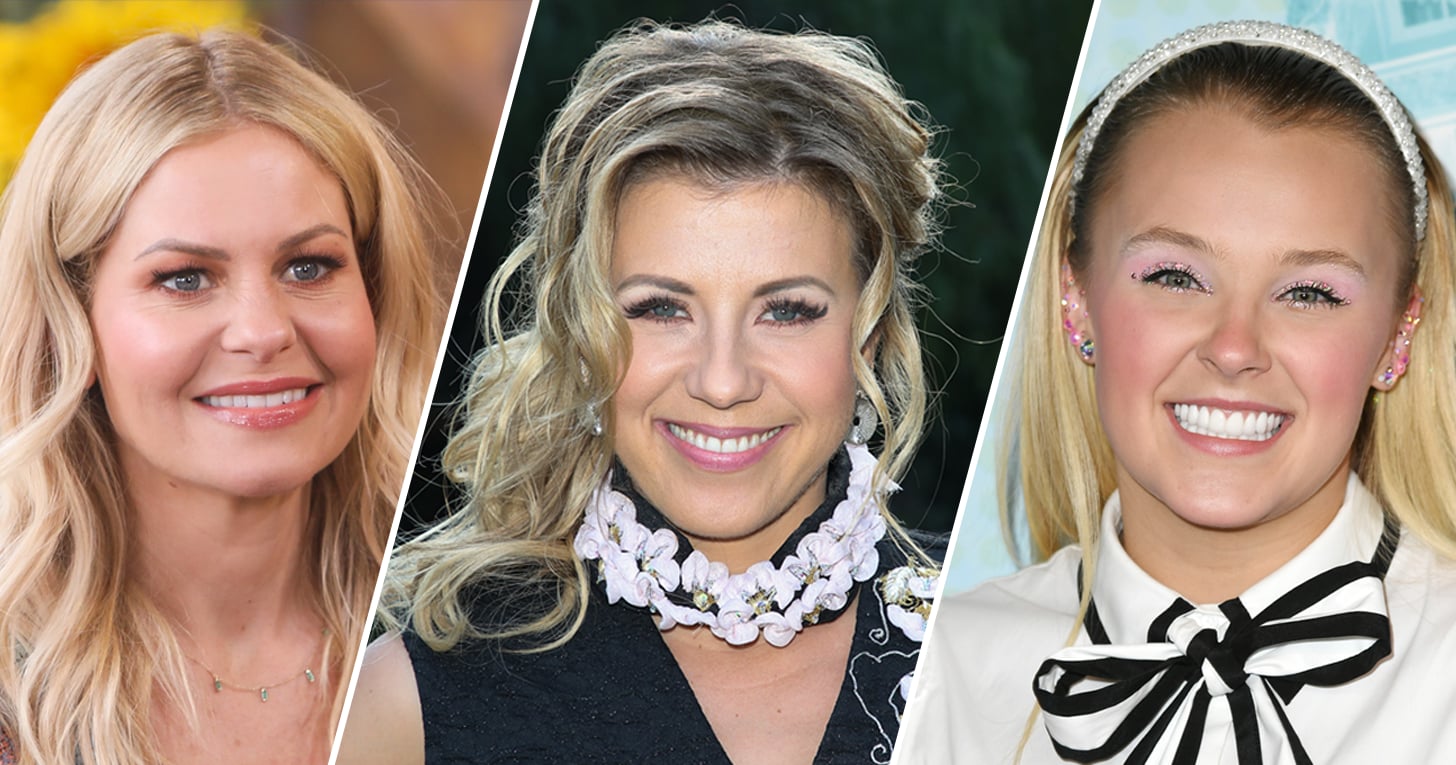 Image credit: Getty / Paul Archuleta, Paul Archuleta, JC Olivera
JoJo Siwa gets support for calling out Candace Cameron Bure. In Nov. 15 Instagram post, Siwa criticized Bure's plans to create a collection of new LGBTQ+-free films for the Great American Family network. "Honestly, I can't believe after everything that went down just a few months ago, that she would not only make a film with the intention of excluding LGBTQIA+, but also talk about it in the press," Siwa wrote. "It's rude and hurtful to an entire community of people."
On Nov. 16, actor Jodie Sweetin — who starred on "Full House" and "Fuller House" alongside Bure — showed her support for Siwa, saying "You know I love you ❤️❤️" on the influencer's Instagram post.
Actor-executive Bure left Hallmark Channel for Great American Family this year, according to Variety , citing her desire to create content that is "trustworthy" and "wholesome." In Nov. 14 interview with The Wall Street Journal, Bure made it clear that she intends to "put Christianity back into Christmas movies." "I knew the people behind Great American Family were Christians who loved the Lord and wanted to promote faith-based programming and good family entertainment," Bure said. "I think Great American Family will keep traditional marriage at its core."
A statement provided by Bure's representatives to POPSUGAR in response to Siwa's post read: "I had also stated in my interview, which was not included, that people of all nationalities and personalities have and will continue to contribute to the network in a great way both in front of and behind the camera, which I fully encourage and support."
Hallmark has been slowly making strides in LGBTQ+ inclusion: its first Christmas movie starring a same-sex couple — "The Holiday Sitter" — opens in December. 11 and stars "Mean Girls" actor Jonathan Bennett.
Bure's statements have attracted comments from more than just Siwa and Sweetin. "Bigot," actor Hilarie Burton Morgan wrote on Twitter. "I don't remember Jesus liking hypocrites like candy. But sure. Make your money, baby. You'll ride the wave of prejudice all the way to the bank."
This is not the first time Bure and Siwa have clashed. Back in July, Siwa took part in a TikTok challenge about the rudest celebrities users had met. Her post included a photo of Bure in response to the request, according to Us Weekly. Soon after the video was shared, fans discovered a clip of Siwa and Bure on "The Kelly Clarkson Show," with Bure describing her own Christmas home decorating style as "simple and elegant," then turning to Siwa, she said, "Maybe a little different than your place.
Bure shared her own Instagram Reel where she addressed Siwa's TikTok, according to Us Weekly, saying they had a "great conversation" and telling her fans that it's "all good on the JoJo front." She also added that Siwa apparently asked for a photo on the red carpet when she was 11, but Bure turned it down – which Siwa now understands. "She said, 'You weren't even mean! And I understand now, as an adult, when you're on the red carpet and everything's going on and you're pulled in different directions, but at the time I was 11 years old. "," Bure said in the video. However, a few days later, Siwa responded by saying that this was not the whole story. "It was at the after party that she didn't want to take a picture with me and I was fine with that," Siwa told Page Six. "But then I turned around and when I looked back she was taking pictures with other kids. And that's what really upset me."
Now, however, their dispute seems to have become much more serious. Siwa, who is dating content creator Avery Cyrus, is a passionate advocate for the LGBTQ+ community. "No one is normal. And I think people are often worried and afraid of being judged, but the truth is, no one is really that judgmental. Everybody's just trying to do it themselves," Siwa said in a 2021 interview with The It Gets Better project, which supports queer youth. "I think [being themselves] makes them brave. I think it makes them awesome and cool and special and celebrated. . . It means you choose to live your life the way you want to live it, and that's okay."